Crew Login
Please enter a valid username and password. Thank you.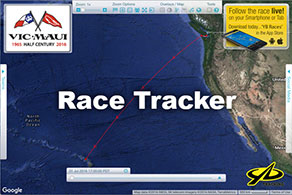 Tweets by @vicmaui
Shackles & Cotterpins e-Newsletter
Featured Sponsor
Featured Yacht Profile
Forty (2016)

Type
: Tartan 4100
Skipper
: Michael Boldt
Port
: Vancouver, BC, Canada
Blog:
1 articles posted
"Forty" and her crew come to our first Vic-Maui from years of coastal cruising, including venturing up the West Coast of Vancouver Island last season together, and we're now excited to sail further afield.
Putting together an offshore adventure is a long anticipated dream for this team comprised of three fathers and four teenaged sons.
Making this a reality as part of the cruising class of the 2016 Vic-Maui makes the trip that much more exciting for our group, and we plan to spend the winter training ourselves up to push ourselves and the boat as fast as we can, as safely as we can, and look forward to joining the festivities in Lahaina.
[Read More Yacht Profiles]
Weather